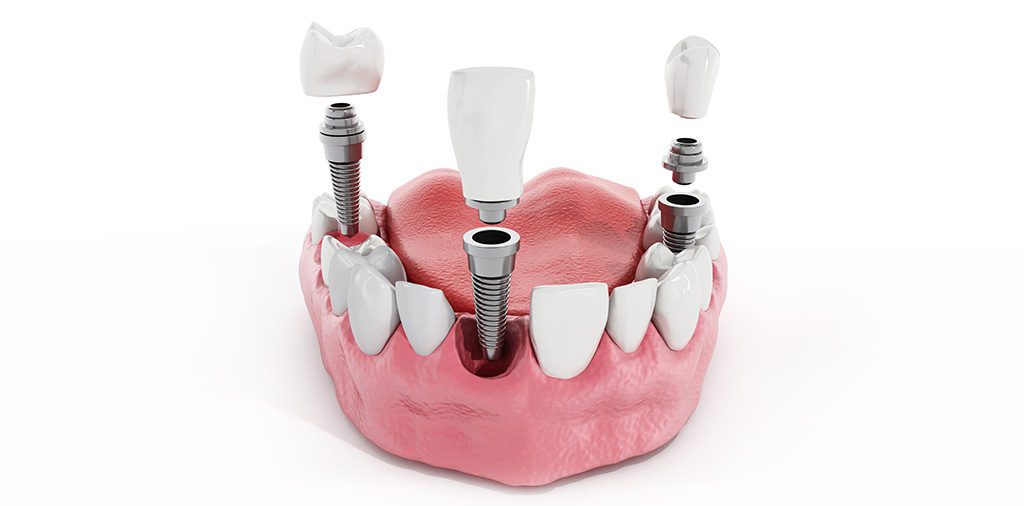 Dental Implant West Covina
A dental implant differs from older types of dental prosthetics in that it is permanently integrated into the jawbone, thereby replacing the missing tooth together with its root. This procedure offers you a natural, durable, and appealing remedy to missing teeth the blends with neighboring teeth. Since their invention in the 1950s, dental implants have become increasingly popular and are now the gold standard for replacing missing teeth.
In the spirit of providing affordable dental care, our affordable dental implants have put a smile on scores of middle-income patients. At A-Z Dental Care, our CT-scan machine and other high-tech equipment are thoughtfully employed to offer the best quality dental implants in West Covina and throughout the San Gabriel Valley area.
Are Implants Really that Much Better than Other Types of Dental Prosthetics?
Traditional bridgework and dentures are vastly better than nothing at all. They prevent problems with nutrition, social isolation, as well as many oral health problems. However, they have their share of drawbacks. Most people understand that dentures can be inconvenient in terms of their care and insuring they stay in place, and some patients are disappointed with their appearance.
Dental implants solve these problems and one more. A less well-known issue associated with losing teeth is bone loss, which can have severe consequences in some cases, including further loss of teeth and changes in facial appearance. Because implants mimic natural teeth and are actually connected to the jawbone, they actually prevent bone loss. At present, no other treatment can do that. The benefits of improved health, better appearance, and the convenience of permanent teeth adds up to a pretty clear preference for most patients.
Who Qualifies for a Dental Implant?
Since dental implants are connected to bones, X-rays and CT scans are essential to assess the condition of a patient's supporting jaw bone, gums, and teeth. If we find that a patient has weak supporting bone structure or infected gums, we may decide that it's not safe to do the procedure. In those cases, we provide alternative treatment, such as traditional bridgework or dentures.
How are Dental Implants Maintained?
Unlike dentures, implants require only the same treatment all of us should be giving our teeth regularly: brushing twice daily, regular flossing, and twice annual dental visits for teeth cleaning and check-ups.
How Do I Get Started?
That's the easy part. To call up and schedule a free initial consultation, just call us at (626) 314-6908 or visit our contact page. Our patients tell us that A-Z Dental Care us the best dental office in West Covina; our friendly and professional team look forward to helping you.